TMC Objectives
Address learning for the future.
Support the reinvention of school libraries to address the evolving information and technology needs of learning for the future.
Invite researchers, school library practitioners, educational leaders and policy-makers to collaborate and move forward together.
Collaboratively explore ideas, inspire each other and build collective knowledge of the learning commons approach as sustainable school improvement.
Analyze the Canadian research available and encourage further academic and site based research.
Alert the school community and the education community of the urgent need to refocus learning for the future and ignite the potential of school library learning commons.
TMC History
Treasure Mountain Canada is visioned as an extension of a research retreat project called Treasure Mountain in the United States, developed  by Dr. David Loertscher and colleagues in 1989. A dozen retreats since then have established this "meeting of the minds" in school library research as a valuable catalyst for improvement based on analysis of research in the field.
Treasure Mountain Canada symposia have been organized by an independent committee, and held in conjunction with major library conferences, in order to establish and maintain a national profile and to attract participants already attending the core conference events. Symposia are held every other year, and each event has focused on a particular problem in research and practice.
Canadian School Libraries
In 2016 Treasure Mountain Canada became a project of the newly-formed national organization, Canadian School Libraries (CSL). CSL is dedicated to supporting and sharing research and professional knowledge about the library learning commons for and with school library practitioners, scholars and researchers.
Treasure Mountain Canada serves as an incubator for much-needed research into school library practice. The first four symposia collectively have generated close to one hundred action research and academic papers.
Symposia & Research Summary
To date there have been four symposia, each addressing a particular problem in research and practice.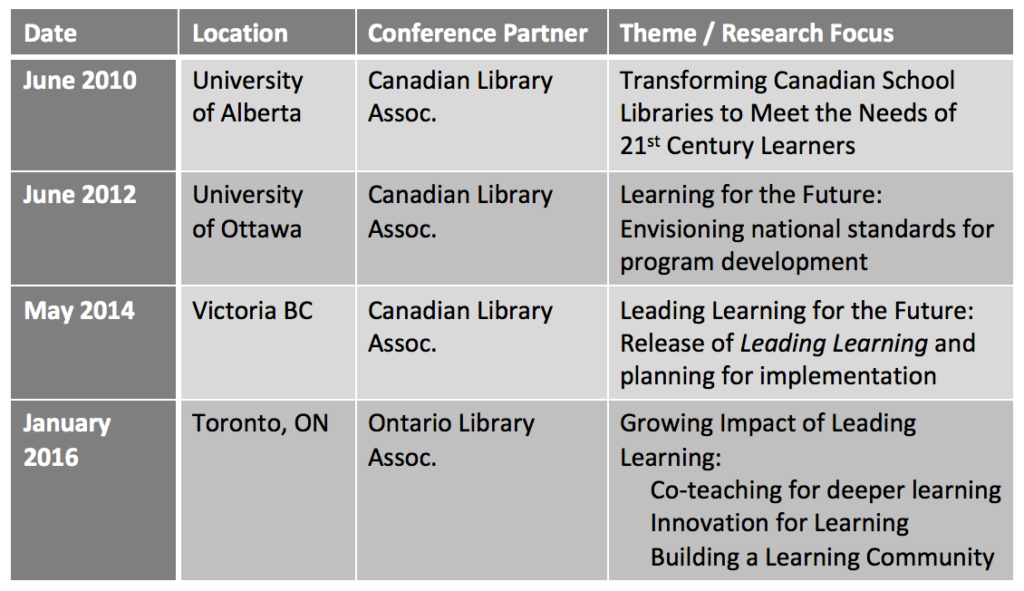 Collectively the symposia have generated one hundred research papers, some academic, some reports on practitioner action research and several publishing findings of collaborative teacher inquiries. The symposia have also served as a think tank, incubating the development of Leading Learning: Standards of Practice for School Library Learning Commons in Canada. TMC has been successful in fostering the Canadian research into the school library learning commons called for by Royal Society of Canada's expert panel report (2014) on the future of Canada's libraries and archives.