Treasure Mountain Canada 5
Winnipeg, Manitoba, 2017

School library learning commons research symposium and think tank.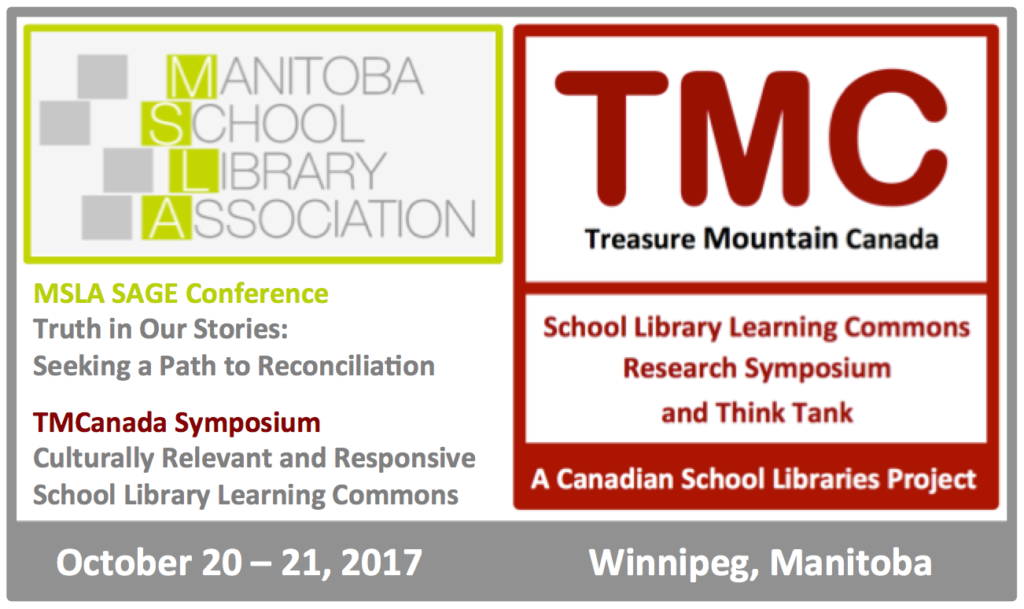 Our next symposium, TMC5, will take place in Winnipeg, Manitoba, on October 20 & 21, 2017, presented in partnership with the Manitoba School Library Association.
TMC5 Theme: Culturally Relevant and Responsive School Library Learning Commons
Learning Environment
Instructional Approaches
Learning Partnerships
Leveraging Technology
---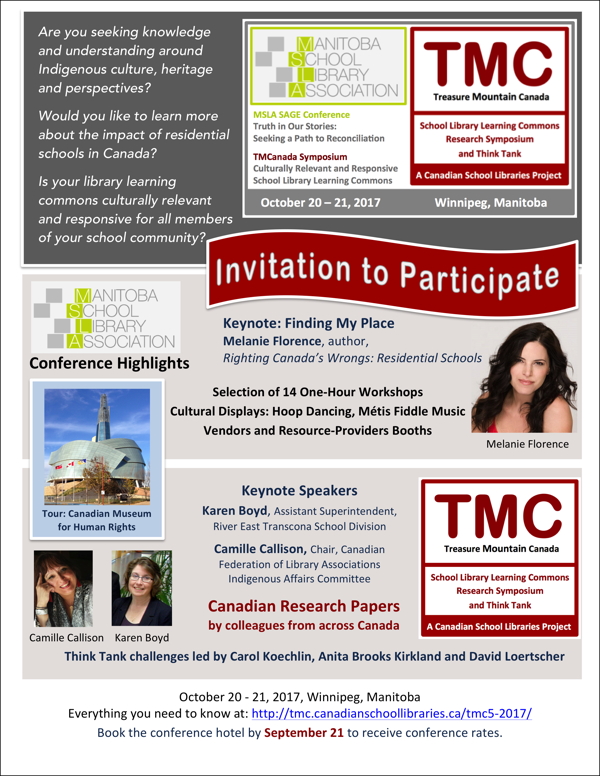 Treasure Mountain Canada 5
CanadInns Destination Centre, Fort Garry, 1824 Pembina Hwy

Friday October 20, 7:00-9:00 pm & Saturday October 21, 8:30-3:00 pm.
* The Kick-off Dinner, continental breakfast and lunch are all included in the registration fee.
Full TMC5 Conference: $150.00
MSLA SAGE Conference (Click to see conference program)
Fort Richmond Collegiate, 99 Killarney Ave., Winnipeg

Friday October 20, 8:30 – 3:15
MSLA Member Rate: Early Bird: $85.00 / After Sept. 30 – $95.00
Non-Member Rate: Early Bird: $95.00 / After Sept. 30 – $105.00
Options available for half day attendance.  Lunch is provided for those who register before October 15.
Canadian Museum for Human Rights Tour: $20.00.
FREE if you register for both SAGE and TMC5.
Transportation is provided from the SAGE Conference to the TMC Kick-off Dinner, for those registered for both events.
---

Are you participating in TMC5?
Click here to download this badge to share on your website, blog or social media channel!
---
Find out more about TMC5
Read the papers submitted for study at TMC5
Symposium participants are invited to comment on the papers
TMC5 Resources: Culturally Responsive School Library Learning Commons
Curated and annotated resources to inform our thinking
Our Sponsors
Many thanks to the library community and our sponsors for their support and contributions to the success of TMC5.
---
For timely updates about TMC5 please subscribe to the CSL Newsletter, if you haven't already!
---